CHAI Community has a lot of functionality, all of which is explained in detail in the User Guide. The following recommendations provide a stepwise approach for getting used to CHAI and expanding your activities if required.
Start simply and go at your own pace, and soon you will be contributing to a step-change improvement in the safety and wellbeing of vulnerable people in your community.
STEP 1 Start with Important Information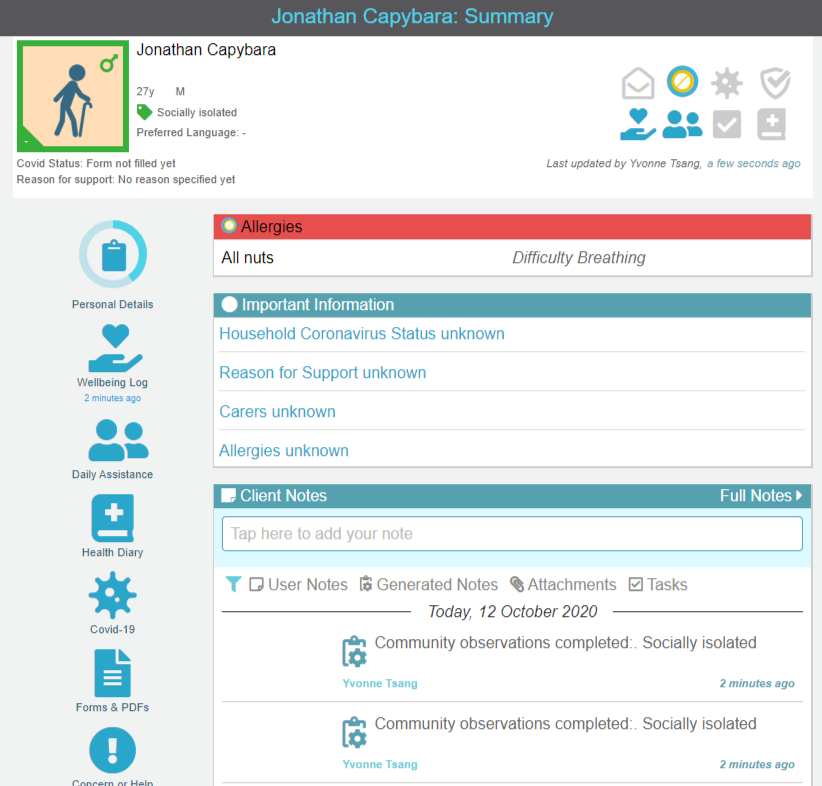 Important Information is highlighted in a box at the top of a client's Summary Page .
Every new client record starts with basic questions to help you get started. Simply click on the "unknown" information and you will be taken to the correct place to enter the answer to the question.
Clicking on the Personal Icon Box in the top left of the screen (it may be empty initially and coloured green) will bring you back to this page with any remaining questions.
STEP 2 Establish a Wellbeing Baseline
Regardless of the help you expect to be providing, it is a good idea to record how your client is getting on. You can do this very simply by clicking the Contact Log .
Use your intuition to assess their wellbeing. A quick look at their surroundings should give you an idea of how well they are maintaining their living area (and perhaps garden), and their personal appearance is a strong indicator. For these reasons we recommend the initial wellbeing assessment is done in person rather than over the phone.
Consider using the Health Diaries if there is any concern about chronic conditions (although this can wait until Step 4 if you prefer). You will find the loneliness (isolation) assessment in the Health Diaries. Ensure you finish your conversation in an upbeat way if you have been discussing troubling chronic conditions.
STEP 3 Use CHAI Initially to Help with your Current Activities
Although CHAI is a powerful tool, use the functions that you are comfortable with to get started.
Using the Tasks function to manage tasks like organising shopping or delivering medication can be a huge help. The Covid-19 status record and allergies record help keep you, your team and your clients safer (see Safety First).
We also recommend trying to keep the Contact Log up to date if possible, it should only take a few moments and is very valuable.
STEP 4 Gradually Expand your Activities
You can use CHAI to help you to be "more than just a helping hand".
Use the Health Diaries to help your client to help themselves. You do not need to be a health expert to record their progress and nudge them to keep doing what their carers and doctors have recommended.
There is no need to go into the Health Diaries on every visit/call.
STEP 5 Review Progress
After a few months look back over your client's progress. If it looks positive and improving then perhaps share it with your client to encourage more of the same behaviour.
Alternatively, if progress is not as good as you were hoping then discuss it with your Team colleagues or Group Manager(s). You may want to discuss the matter with others if you have permission from your client.
Clearly not everyone is going to have an improving overall wellbeing. The objective of using CHAI is to help ensure that your client is living in the best way that they can given their circumstances, and that you and your team are offering the best possible care you can offer, given your circumstances.
Get in touch with us
If there is something that we are doing well or could be doing better then please let us know in our Feedback Form.
Or if you have some specific requirements, such as customised Health Diaries, please send us your suggestions here.
We are here to help.