The Contact Log is a simple, yet very powerful tool for keeping your group informed about a person's overall wellbeing and tracking their progress.
You can use the Contact Log with family or clients to quickly record your interaction with an individual, providing prompts to ask about key fundamentals to assess how they are coping. Some answers will trigger automatic Tasks and others will present in-context advice.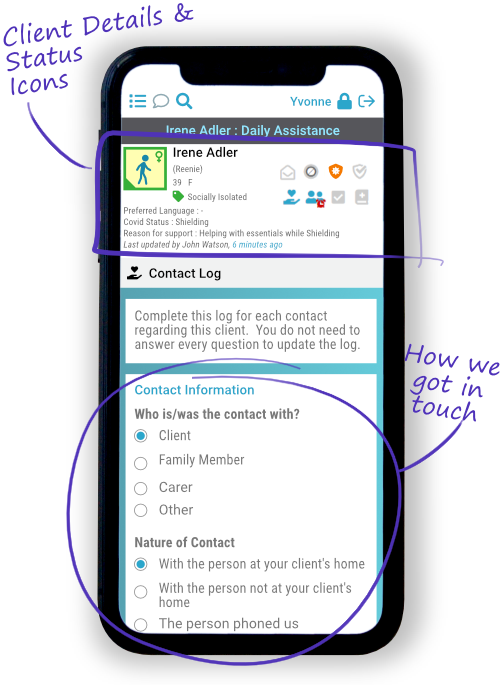 Start with the basics
Record who you have spoken with even if you didn't interact with your client directly – perhaps a relative or carer.
Tip: The Contact Log is Customised

It will have a different set of questions for each client as they are customised to show only those questions that are relevant to their needs based on previous answers.
How are they coping?
"How are you today?" is a common greeting. It becomes so much more valuable when you ask a few more specific questions and record the answers to track progress and sharing the information with other trusted people in your group who are looking after an individual. You chose which questions to ask and when.
You can ask about:
Covid-19 Symptoms
Personal Wellbeing
Living Environment
Nutrition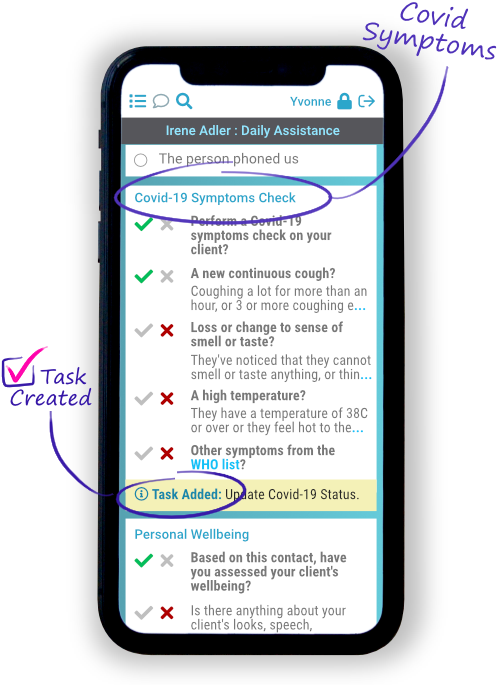 Safety First : Do they have any Covid-19 Symptoms?
Check for Covid symptoms routinely. Especially if you are meeting in person or another volunteer could be visiting soon.
Personal Wellbeing
There are often obvious cues that indicate that a person is not coping. Ask yourself if there is anything about your client's looks, speech, mannerisms or environment that may be a concern or suggest that the individual is not managing to look after themselves? If there is, you can record your concern and either get some help or ask someone else for their opinion.
Living Environment
If someone is not able to maintain their home or immediate surrounding it is a clear warning that help may be needed. Any immediate hazards such a trip or fall hazards can also be recorded for urgent attention.
Nutrition
Good nutrition is clearly a fundamental concern. Look for tell tail signs of change including obvious weight loss. If there's a concern that your client is not eating well, you can flag this up and arrange for immediate food or shopping deliveries. But check the cupboards first just in case your client is not eating for other reasons. You will probably need to seek further support if a client is regularly not eating well.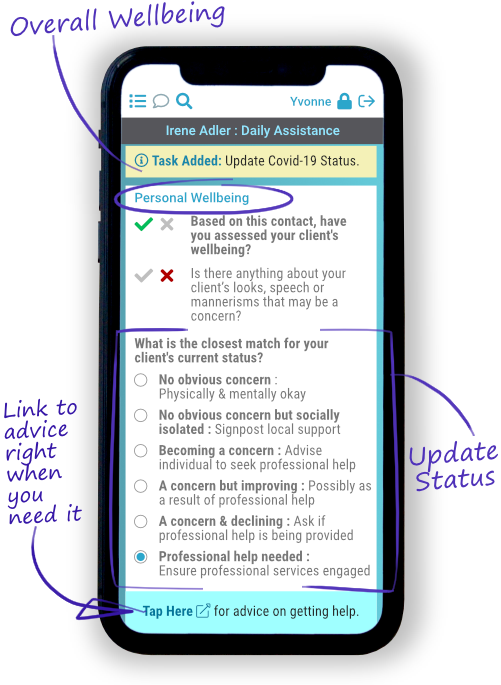 Check on their daily needs
Whilst you're chatting with your client, and depending on your group's function, you can check if your group can assist with any routine needs, such as:
Organise their shopping. You can snap a photo of a shopping list or record over the phone, easily viewable if someone else is actually doing the shopping, and record payment method.
Help clients by collecting their medication, and reminders will be flagged for chronic conditions such as diabetes requiring a regular insulin supply.
Help with pets if needed.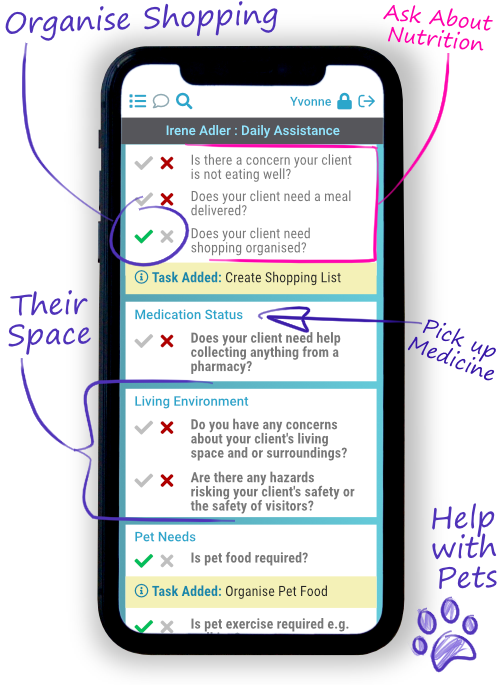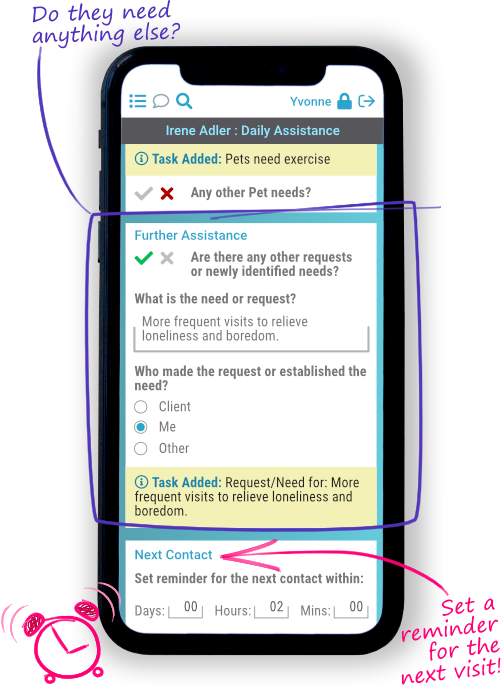 Do they need help with anything else?
Are there any other things that they need assistance with?
Tip: We encourage you to complete the contact log each time you interact with the client, but you don't need to ask every question each time in order to update the log. But it only takes a couple of minutes in total.
Sign-up now
and make a difference